By Cheree Franco - 28th July, 2022
Using Design to Transform Crisis Into Opportunity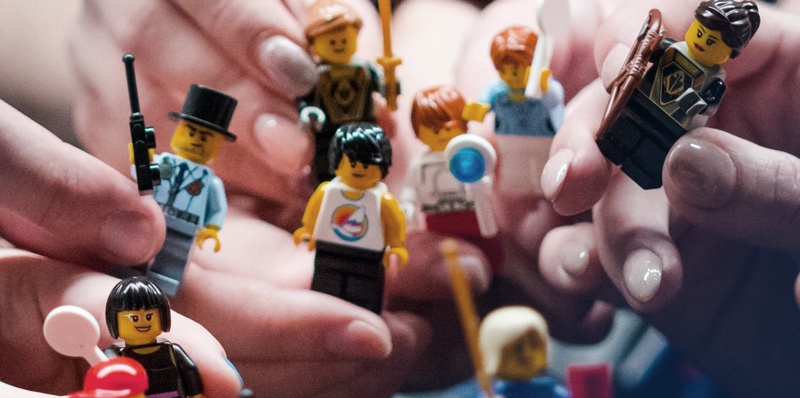 PLASTARC sociospatial researcher Amy Rosen recently appeared on a three-person panel called "Safer Communities," alongside three other members of the AIA Unified Crisis Task Force, at AIA's annual national conference.
The event highlighted the recent work of the Task Force, which won the 2022 AIA Collaborative Achievement Award, recognizing excellence in cooperative projects between architects and non-architects. Over the course of the talk, panelists discussed solutions to COVID-spawned challenges in commercial spaces and public housing, with a long-term goal of creating more just and resilient spaces.
Increased signage is a fairly simple safety solution mentioned by both Rosen and architect Michael Chen. Chen utilized signs and color-coding to design circulatory paths that allowed students to travel throughout a school and use facilities such as restrooms while minimizing contact with others to lower pathogen-exposure. Chen then exported these same tactics to state and city performing art spaces, to make them safer as they reopened.
Rosen explored the question, "How can we turn the lessons learned from reopening our businesses into a roadmap for future workplaces that are more inclusive, diverse, and equitable?," drawing on research and suggestions from PLASTARC's "Back to the [Future] Workplace" webinar series, as well as PLASTARC's work with GSA and AIA's partnership with SBS (New York City Small Business Services).
Small businesses navigate COVID workplace disruptions from a different position than large corporations. They often have more pressing lease considerations, infrastructural and communications limitations, and outdated systems.
The pandemic provided an opportunity for both small and large companies to rethink the workplace, accelerating existing trends like tech and innovation, change and flexibility, sustainability and wellness, and equality and diversity. Many companies have been able to leverage this momentum to challenge our systems as we pivot from crisis-response to resilience, via a temporal approach that involves short, mid and long-term planning.
PLASTARC clients have a lot of questions these days, such as: What does the future office look like with increased distributed work and desk-sharing? How can we develop a real estate decision-making model that reflects a diverse set of needs and work-styles? How can we support every employee in remote and hybrid work? What is the role of space in a remote-first culture?
Remote-first resilience includes taking stock of and prioritizing pervasive challenges in order to equitably and sustainably plan. These challenges include mental health issues, such as burnout and isolation, communication issues, and cultural disconnect. Future offices will include less individual space and more collaborative space, as well as cater to more interactive work needs. Alternatively, a company may have a smaller, more flexible office with a portion of their space adapted into an innovation hub and event space that could be rented or shared with other businesses or nonprofits.
Chen and another architect, Andre Soluri, discussed projects they were a part of, singularly and collaboratively, that provided pro-bono design solutions for social nonprofits, small businesses, and restaurants devastated by the pandemic. Early in the pandemic, as restaurants hurriedly created makeshift outdoor spaces, Soluri and others noticed that these structures, often designed and built by non-contractors, could be inefficient and dangerous. They created a website that allowed restaurants to sign up for design help and architects to sign up for volunteer design work, and then they matched the architects to the restaurants. Later this became a collaborative project between New York City Economic Development Corporation, Center for Architecture, and NYCxDESIGN, managed by the AIA New York Crisis Task Force. The goal became bigger, less of a temporary fix and more about creating permanent spaces (and advocating for policy and zoning changes) that will make dining in New York better and safer long-term.
Damyanti Radheshwar, with D Radheshwar Architect + Urban Designer & Strategist, asked, "How does the architectural industry address immediate needs and contribute to safer communities at all scales?" She worked with volunteer architects, landscape architects, urban designers, and the New York City Housing Authority (NYCHA) Capital Projects Division staff to transform the low-income complex Jefferson Houses from a poorly-maintained and intimidating space into a park-like oasis with a playground, fitness park, and open outdoor spaces. Future goals include incorporating walkways, sports fields, and performance areas that invite in other community members, reducing segregation and stigma.
Prior to completing a masterplan for Jefferson Houses, Radheshwar's team solicited community input through campus canvassing and digital, multilingual surveys. Her position is that, "The end users are the true experts."
Along those same lines, Chen discussed a nonprofit gallery in Williamsburg, Brooklyn that champions the work of neurodiverse artists and provides studio space for residencies. During the design process, his group invited represented artists and community members to tour the space and sketch versions of what they would like the space to be. Those sketches informed the final design and are now showcased on the gallery walls.
Through case studies and concrete steps, this panel provided design professionals methods and insight into how to use their technical expertise, and networks to affect lasting positive change during a crisis, that does more than simply react or respond—that improves the livelihood of our businesses and communities even once the crisis has passed.