Does someone in your office fit all of these descriptions?
Enabling culture
Connecting people and ideas
Extending boundaries
If so, you might have a next generation Community Manager in the house! Lucky you.
But where did this unique and precious creature come from?
The role of today's Community Manager is a dynamic one that is shaping new professional territory at the edges of traditional workplace. The demand for this points towards the future: workplace as an experience. From one direction, the historic roles of facilities managers, hospitality staff, and even workplace designers are influential. From the other direction, demand for the role is being informed by young employees who want the same great customer experience they receive in their consumer and social lives. Both supply and demand are being lead by the massive success of coworking, where workplace holds a new identity: not just a place, but a full service environment. We're constantly learning from coworking, where the best Community Managers often hail from backgrounds in education, political science or even urban and community organizing.
On our minds
Coworking has been responsible for a lot of that coveted intervention known as 'disruption' in the past decade. To cite just two big examples: it's played a starring role in the freelancing boom, and one of its international pioneers, WeWork, recently earned an almost $17 billion valuation. The evidence just keeps rolling in that workers (whether freelance or full-time) love the social atmosphere, physical flexibility, sense of autonomy, and suite of resources that coworking communities offer. Who wouldn't? What might not be as top-of-mind for many, is the profound role that a talented Community Manager plays in these positive experiences. By connecting the dots between various aspects of the workplace and enabling a complete employee experience package, Community Managers serve up space, service, and culture, all in one. Who's coordinating your future Lunch & Learns? The same rock star who's liaising with building security on guest registration sequence, collecting occupant feedback about the furniture, lobbying for a workplace app, and introducing new hires at happy hour. That's right: it's all your Community Manager. Of course, we're not the only ones who believe in the power and possibility of good community management. We couldn't be more excited to share the stage with our client Verizon next month at the 2017 CoreNet Global Summit in Shanghai, China, where we'll discuss our approaches to leveraging space in the context of their global workplace transformation project. (If you can't wait for Shanghai, check out our presentation from last summer at IFMA World Workplace on "Next Gen FM"). Verizon is learning firsthand about the intricacies of coworking within their organization, and just began the search for a Coworking Community Strategist in NYC; Cambridge, MA; and Washington, D.C..
In Case You Missed It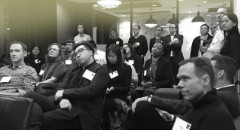 MIT Club of New York Course IV Winter Social
Melissa (M.Arch '04) was delighted to co-host this gathering in late January for MIT alums to connect and discuss new work.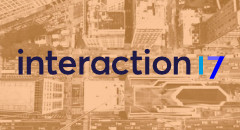 Interaction 17
The Interaction Design Association's 10th annual conference convened more than 1,000 design leaders, practitioners, and students in NYC for six days of energizing events, talks, workshops, and awards.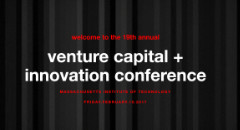 MIT Venture Capital + Innovation Conference
This exciting annual event about cutting-edge research and tech makes a winter trip to chilly Cambridge, MA worthwhile.
Looking Ahead
At PLASTARC, events are essential. Organizing, attending, and presenting at events are all ways our team grows, learns, and makes connections. Our dance card for the weeks ahead includes…