By Cassie Hackel - 13th April, 2018
In March 2018, PLASTARC returned to the Wharton People Analytics Conference, organized and presented by students and faculty at The Wharton School at the University of Pennsylvania. This marked the fourth year that PLASTARC has attended WPAC. Each time the event has provided insightful content and connections between the data-driven and human aspects of work and organizations.
This year's event was no different, kicking off with the startup competition. The competition's organizers and five finalists didn't let the previous day's blizzard dampen their enthusiasm. PLASTARC was thrilled to compete for the second year in a row, and we were honored this year to receive the award for Most Innovative Use of Data. Pitches from four other startups - Paddle HR, Peakon, Headstart, and Koru - demonstrated the power of analytics to impact how organizations operate and make decisions about space, recruiting, hiring, and employee engagement.
A panel of four judges - Gail Ball of Chestnut Street Ventures, Ethan Mollick, Reb Rebele, and Prasanna Tambe (all of The Wharton School) - heard the pitches and offered feedback to each presenter on stage. These exciting presentations made for a wonderful lead-in to the main conference program, where a range of speakers illuminated the myriad ways data can help understand people and organizations.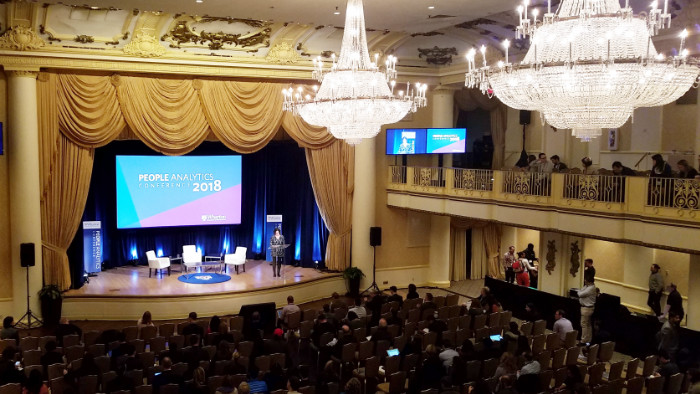 Several speakers addressed key topics related to workplace and organizational analytics, illustrating that people analytics is moving more into the mainstream focus of many organizations. One of these was Daniel Pink, who spoke about the impact of time of day on our ability to do certain tasks, and on our moods. Recent research on the neurological workings of circadian rhythms is beginning to impact workplace design, and is a fascinating example of using data to shape employee experience.
David Fano and Rachel Montana from WeWork's research team explained how they use people- and space-based metrics to make the most effective workplace experience for a wide variety of organizations and tenants. By understanding how members currently use space, and how they would like to use it in the future, WeWork has created activity-based workplace solutions that are well-suited to a range of tasks that workers encounter throughout the day.
Stewart Butterfield, CEO of Slack, discussed how technology has already changed the way we work, and how it will continue to do so by interacting with people - including how Slack allows for more voices to participate in conversations at work, and for teams to structure the ways in which they communicate to be most effective.
Using people analytics to promote equity and inclusion, and to challenge existing structures, was a recurring theme at the conference. This was evident in the startup competition, where several startups in the HR realm spoke about using analytics for more equitable hiring, in the research paper and student case competitions, and in several presentations, such as those given by Jonathan McBride, Managing Director and Global Head of Inclusion and Diversity at BlackRock, and Jennifer Freyd, Ph.D., Professor of Psychology at the University of Oregon, Author, and Editor of The Journal of Trauma & Dissociation.
One of the most memorable presentations came from Giorgia Lupi, an Information Designer, Author, and the Co-Founder and Creative Director of Accurat. Lupi urged the audience to think not only about data-driven design, but about design-driven data, and keeping the human aspect in people analytics when we share the results of our research. Her explanation of an artistic data visualization that was personal to her life was an inspiring reminder that as people analytics progresses as a field, it is important to use the power of beautifully visualized information.
The full slate of WPAC speakers made for an intriguing two days of discussing how analytics can help us understand people and organizations better. We look forward to continued involvement with, and learning from, WPAC and the people analytics community.